Verizon hosts 10th Annual Backpack and School Supplies Giveaway Jackson County, Ore. — Inflation has taken a toll on families in more ways than anyone could have imagined. But, there are a few things that still have to be done no matter what, like making sure your children have back-to-school supplies. For parents who are struggling and need extra help with that, the Cellular Connection for Verizon is hosting their 10th Annual Backpack and School Supplies Giveaway. "Every location we have around the country gets from 150-200 backpacks every year and they come filled with school supplies from folders, rulers, paper, pencils and pens," said Daniel Varela, District Manager for Southern Oregon TCC Verizon. According to Varela, they have four locations in Southern Oregon and the event will take place July 31 from 1:00-4:00 p.m. "We ask that when you do show up that you bring your child with you so we can hand them the backpack," Varela said. "We just encourage everyone to come out, we will have food vendors and games for everyone to enjoy as well." The locations are: Grants Pass 498 Union Ave 142 NE Terry Lane Medford 1779 N. Riverside 1315 Center Drive "We have five $10,000 scholarships we will be giving away as well across all our locations," Varela said. "There's a little QR code that we can get them signed up for the potential to win one of these $10,000 scholarships, so when they come get a backpack we'll help them out with that part as well." They will be announcing the winner a few weeks after the giveaway and will contact each person that won. See the original story here:
https://ktvl.com/news/local/backpack-and-school-supplies-giveaway-verizon-cellular-connection-folders-rulers-pens-pencils-southern-oregon-scholarships
Familiar Faces in New Places! AHS Welcomes-Back Francisco Lopez-Atanes as Assistant Principal beginning in August of 2022. Francisco Lopez-Atanes joins the AHS team officially as Assistant Principal after serving as an interim in that position during the 2021-2022 school year. Francisco was born in Madrid, Spain. He graduated with a B S in Philosophy from Alcalá University and earned his law degree at San Pablo CEU in 2002. His heart called him to the classroom and he earned a teaching certification at Cardiff University, completing a PhD in 2008. Except for a short period of time as a lawyer, Francisco has worked in education since 2003. He has taught subjects including Political Science, Spanish and AP Spanish Literature. Francisco worked in leadership positions in several organizations prior to joining the AHS Spanish department in 2019 where he quickly established himself as a teacher leader. During the 2021-2022 school year, Francisco serves as Interim Assistant Principal at Ashland High School where he also taught Leadership. Francisco says, "I have found in Ashland High School a place to call home and be part of a thriving community of educators that share a strong passion for education and are committed to all our students. Elisabeth, my spouse, was the first in my family to be part of the District, teaching Spanish at AMS. This year, my daughter is a Helman 'dragon-to-be' and is looking forward to kindergarten. My son starts his career at AMS in the fall. Every member of my family is part of the Ashland School District!" A Welcome Return! Becca Laroi is returning to AHS as Assistant Principal! Many of you know Becca Laroi from her time as Equity Director and AHS Assistant Principal in Ashland, or through her work in the valley with the BIPOC community and the Black Youth Leadership summit. Becca most recently served in Medford School District and consulted with Southern Oregon Education Service District on equity issues. We are excited to share that Becca is returning and has accepted a position as an Assistant Principal at AHS for August 2022! From Becca, "I am first and foremost the proud mother of three awesome humans. I am a product of the public education system in Southern Oregon and I am excited to be representation for students who don't always see themselves reflected in our systems. I started my path in education as a special education assistant. I earned my Bachelor of Science in Psychology, and focused on health and PE while obtaining my Master of Arts in Teaching. In addition to teaching, I have had the privilege of serving as a department head, instructional leader, softball coach, and community liaison for Black and African American students. While doing work in our community to uplift historically marginalized populations, I pursued my Administrative license. I had the honor of serving as the ASD Administrator for Equity and Inclusion, as well as Assistant Principal at AHS and McLoughlin Middle school in Medford. I'm humbled by the opportunity to come back and serve this incredibly special community in Ashland."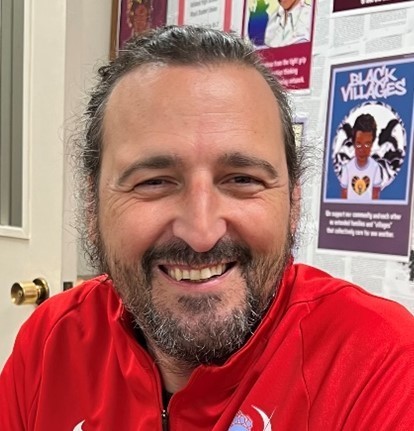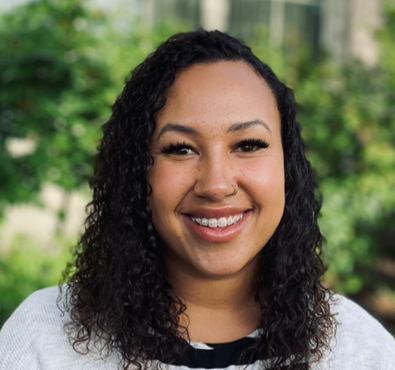 Our Grizzly baseball and softball teams have had a great season, with both teams competing in the playoffs! Both programs also had a number of players selected to the Midwestern Conference All-League Teams! Congratulations to the following players: MWL Softball All-League Catcher-Katie Theobald (Honorable Mention) Infield-Gabby Heiken (1st Team) Infield-Shelby Brown (2nd Team) Infield-Ivy Clason (Honorable Mention) Outfield-Tess Hobein (Honorable Mention) Utility Player-Glory Pistole (1st Team) MWL Baseball All-League Coach of the Year-Nick Hall Infield-Keller Bloodworth (2nd Team) Infield-Jackson Kemper (2nd Team) Outfield-Tripp Repp (2nd Team) Pitcher-Evan Rhoden (1st Team) Pitcher-Gabe Brabec (1st Team)
Our Ashland Grizzlies baseball team will host the Crescent Valley Raiders in the first round of the Baseball State Championships! First pitch is 4:30 pm, Wednesday, May 25. Our Ashland Grizzlies softball team will be on the road against the Lebanon Warriors in the first round of the Softball State Championships! First pitch is 4:00 pm, Wednesday, May 25. Tickets are $8 for adults and $5 for children and students. The first 50 students in attendance will get in for free! Tickets can be purchased through the OSAALive Mobile App, HomeTown Ticketing App and, of course, the OSAA tickets page at
https://www.osaa.org/shop/tickets
. The baseball and softball games will also be streamed through the NFHS Network for a fee. If you already have a subscription to the NFHS Network, you will be able to watch for free as part of your subscription. The NFHS Network will stream all games throughout the entire tournament. Come cheer on our baseball and softball teams to victory!
Our 8th ranked Ashland Grizzlies will take on the 9th ranked La Salle Prep Falcons in the first round of the Boys Basketball State Championships! Tip off is 6:00 pm, Friday, March 4. Tickets are $8 for adults and $5 for children and students. The first 50 students in attendance will get in for free! Purchase tickets in advance using the following:
https://www.osaa.org/docs/osaainfo/HTTwebsite.pdf
. The QR takes you directly to the tickets page itself. Tickets can also be purchased through the OSAALive Mobile App, HomeTown Ticketing App and, of course, the OSAA tickets page at
https://www.osaa.org/shop/tickets
. The game will also be streamed through the NFHS Network for a fee. If you already have a subscription to the NFHS Network, you will be able to watch for free as part of your subscription. The NFHS Network will stream all games throughout the entire tournament. Come cheer on our boys basketball team to victory!
This week is American School Counselor Appreciation Week! Ashland School District has many talented and dedicated behavioral health specialists. Please take a moment to recognize and get to know the group of people working here at AHS! Madison Malot: School Counselor A-D Madison joined AHS this year. She grew up in Central Point and just returned to the area after living and working in Arizona for the past four years. She has extensive experience working with students challenged with auditory and visual impairments and is fluent in ASL. She is already generating some exciting ideas as to how counselors can better support our students with IEPs and their post-secondary opportunities. She is thrilled to join the AHS team and is loving getting to know all of her 9th-12th grade students. Alec Slinkard: School Counselor E-K Alec also joined AHS this year. He grew up in the valley and brings extensive knowledge of local resources and support systems throughout our region. Alec's energy, compassion and sense of humor are contagious and uplifting to those around him. He works hard to help his students see themselves from the positive, strength-filled perspective that he sees them. Alec also became the assistant coach of the AHS wrestling team this year and is looking forward to growing the program in the years to come. Bryanna Trevino: School Counselor L-Re Bryanna Trevino grew up in Sutherland and moved to the Rogue Valley a few years ago. She joined AHS as a school counselor a year and half ago. She quickly impressed those around her with her deep compassion, strong advocacy, and attention to detail. After just one year in the position, she took on the role of sole counselor for the summer school program and has now taken on numerous critical leadership roles in the department. Bryanna is a first-generation college graduate and a Ford Foundation recipient. She also co-leads our Native American Student Union (NASU) at AHS. Robert Joe: School Counselor Rh-Z Robert joined AHS this fall. He grew up as a "3rd Culture" student, attending schools in Hawaii, Singapore, and Iceland while his parents worked for the Navy. He fell in love with the Rogue Valley when he became an undergraduate student at SOU and is now thrilled to call it home. Robert brings an important perspective and passion to the department as a first generation, BIPOC counselor. His insights, suggestions and actions are invaluable to the department's vision and growth. Robert also coordinates the BSU (Black Student Union) on campus. Jen Marsden: College and Career Specialist, ASPIRE Program Coordinator Jen Marsden has worked at AHS for the past 12 years. Jen is one of those unique professionals who moves at lightning speed and seems tireless, even after 12-hour days. Jen coordinates the College and Career Center (across from library entrance), schedules college visits, connects students with job and apprenticeship opportunities, offers parent informational nights, teaches CCR lessons about college search, financial aid, and scholarships and more. Jen also coordinates the ASPIRE program, connecting students to trained volunteers to work with them 1:1 on their post high school planning. Jen is especially passionate about supporting first generation and less resourced students explore post-secondary paths, apply to programs and secure financial aid and scholarship packages. Karyn Barats: AHS Counseling Department Office Manager and Scholarship Coordinator This is Karyn's 10th year at AHS in the Counseling Department. Karyn greets students, makes appointments for them, prints unofficial transcripts, and coordinates all scholarship paperwork and the Scholarship Awards Night in May. Karyn also answers hundreds of questions about all sorts of counseling related topics. Her warmth, humor and generosity are so appreciated! Kimberly Wasserman: Behavior Health Specialist Kimberly moved to the Rogue Valley from Madison, Wisconsin a few years ago. She began work at AHS as the mental health therapist at our Health Center (Rogue Community Health) a year and a half ago. Last spring, when ASD created new Behavior Health Specialist positions, she applied and moved into this new position. She has extensive experience working with anxiety, conflict resolution, survivors of trauma and unhoused students. Isaiah Creel Isaiah joined AHS a year and a half ago as a 9th grade humanities teacher. This past month he took on the newly opened position of Dean of Students. Isaiah is excited to build connections with students school-wide and wants to support a student culture with a strong understanding of and commitment to community responsibility. Christie Lawson This is Christie's 5th year at AHS. She is a multi-tasker extraordinaire, knows just about every student on campus and logs way beyond 10,000 steps a day. Christie supports our dean's work and focuses on supporting a safe and welcoming campus, facilitating peer conflict mediation, and encouraging strong attendance. Christie is also one of our star problem-solvers and is the mind behind some of our most exciting student support projects and programs. David Heckman David has been working at AHS the last number of years as an Educational Assistant with our young adult students in the Inspire House program. A few months ago, he moved into a new position as a campus-wide Student Advocate. He is making great connections with students and is especially eager to support students who are struggling with attendance challenges.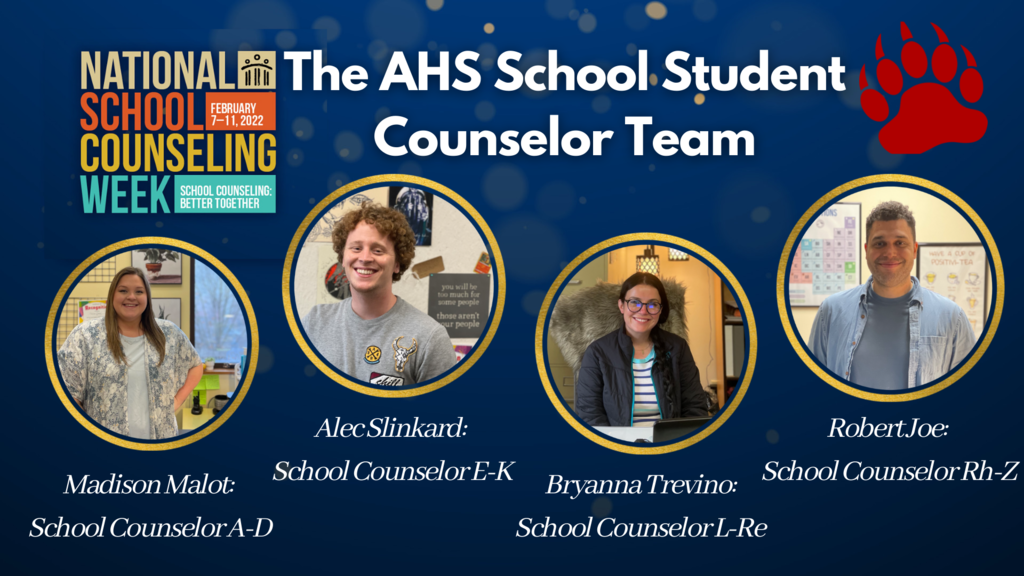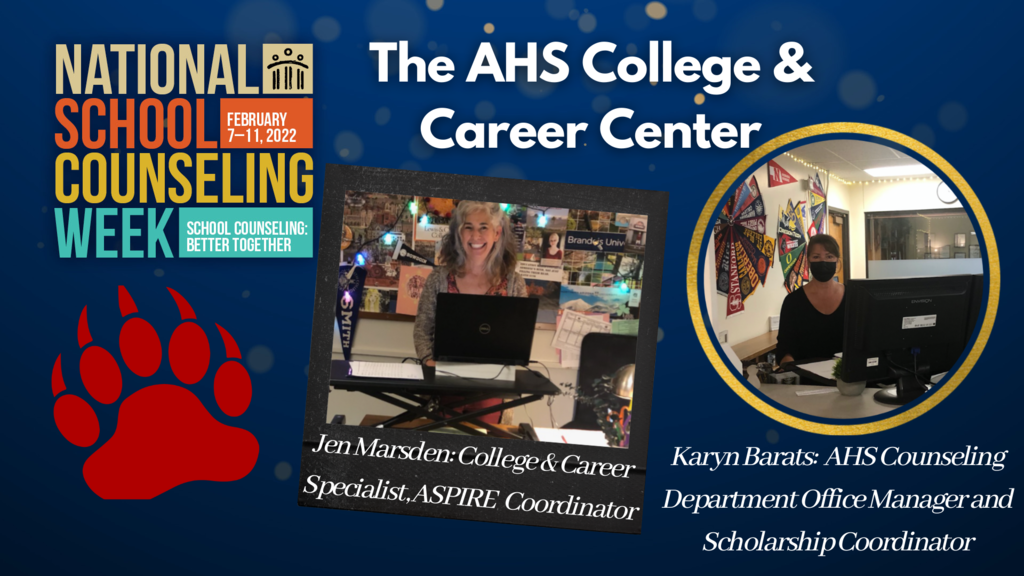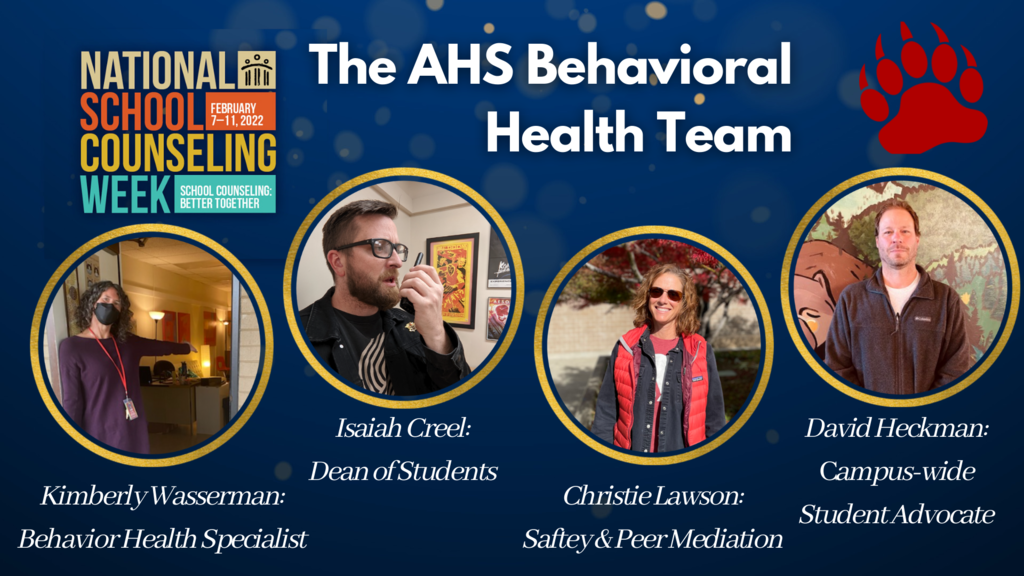 We are allowed to have fans back in limited capacity. Student-athletes will be allowed four guests for Friday night's boys and girls varsity games against Churchill. Spectators will need to check in and let our game management team member know which athlete they are in attendance for. Masks must be worn at all times by spectators. No food or drinks are allowed in the gym. There will be no concessions available. Girls play at 5:15 and boys play at 6:45.
Get ready for the 13th Annual Monster Dash Run for Education! This year's race is back in Lithia Park on Saturday, October 30th, or you can sign up to run the race virtually from anywhere October 22nd – 31st. 1-mile Fun Run/Walk 5k Run/Walk 10k Run Walk, run or zombie stroll for this annual family-fun event that supports grants in Ashland public schools. This one-of-a-kind race is presented by Lithia 4 Kids, the Ashland Kiwanis Club, and the Ashland Schools Foundation (ASF). This year the in-person races at Lithia Park will be modified for COVID safety, with mask requirements, staggered race-wave start times and locations, and limited numbers per race to allow for social distancing. All racers receive finisher's medals, plus fun-filled race packets and giveaways for youth 18 and under! Register NOW for early-bird pricing for adults (thru Oct 13…kids are always $10) and before the race time you want fills up. Go to
www.AshlandMonsterDash.com
to sign up the whole family and get more info about this year's race, online contests, silent auction and prizes!
Financial Aid 101 – Important Information for Senior Families! Wednesday, September 29, 5:30-6:30 pm Learn about the pathways to access financial aid and scholarships! We will discuss the process for completing the FAFSA (Free Application for Federal Student Aid), an online application which qualifies students to receive the Federal Pell Grant, the Oregon Opportunity Grant, the Oregon Promise, and government loans. Even if you think your family will not qualify for federal financial aid, it is important to complete the FAFSA. Many colleges will not give students merit aid unless they have a FAFSA on record. We will also briefly cover the CSS Profile, a separate online application many private schools use to determine institutional financial aid. The 2022-23 FAFSA goes live on October 1st and seniors will have the opportunity to begin work on the student portion of their FAFSA in CCR classes. Families who have not recently completed a FAFSA are encouraged to attend this session to learn the latest information on how to easily submit this important application! This zoom session can be accessed at the following link:
https://asdconnect-org.zoom.us/j/97711618881
. The session will be recorded and available on the AHS YouTube Channel, where you can already find info session recordings from earlier this year.
We had so much fun with our 9th and 10th graders at Club Fair yesterday!! So many fun clubs to learn about and sign up for. Check out Clubs & Activities on the AHS website for more info! 11th and 12th graders will go to Club Fair on Friday🐻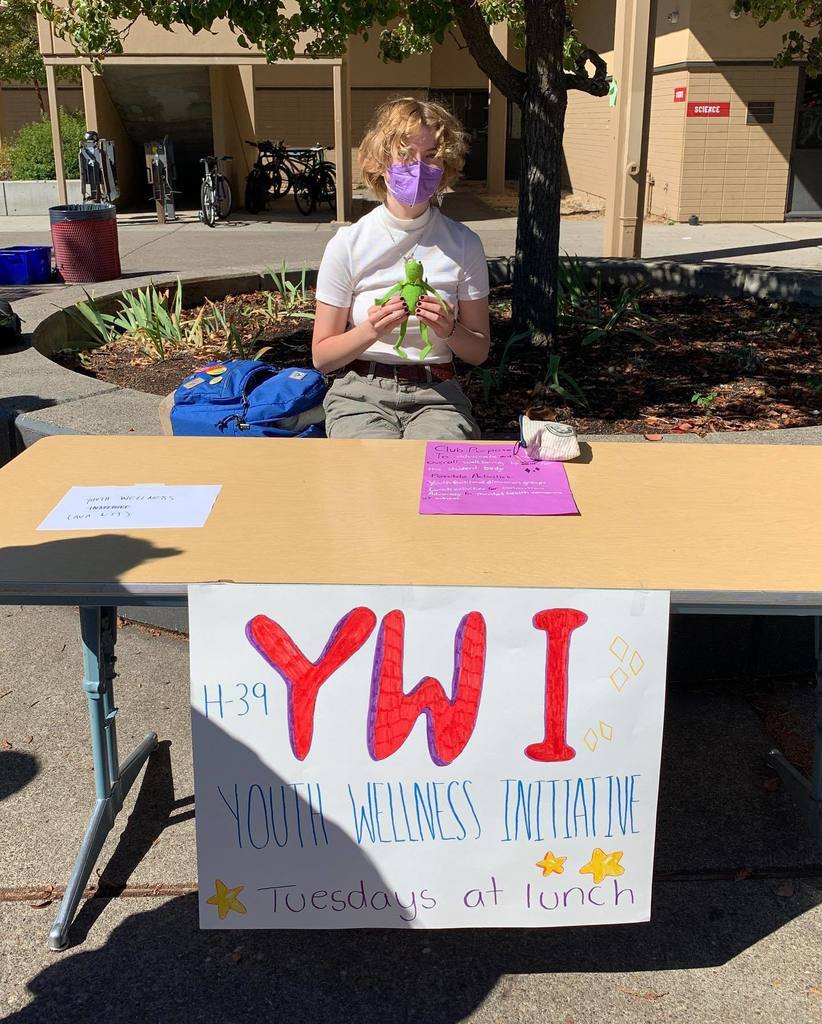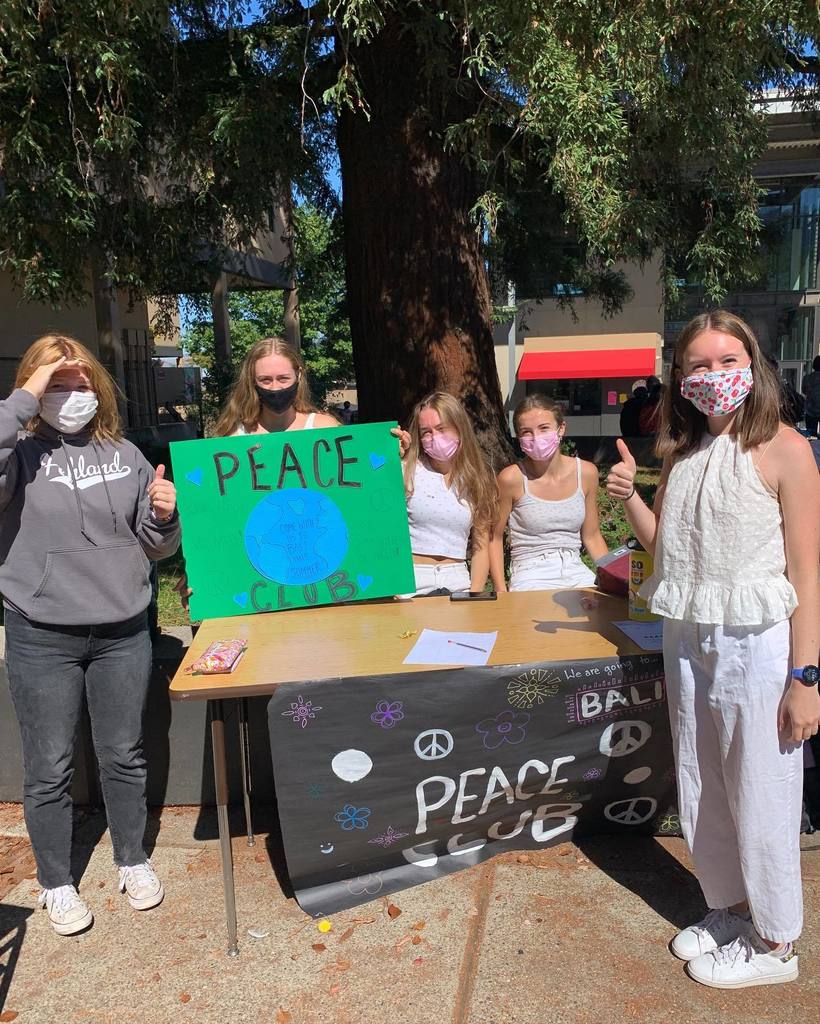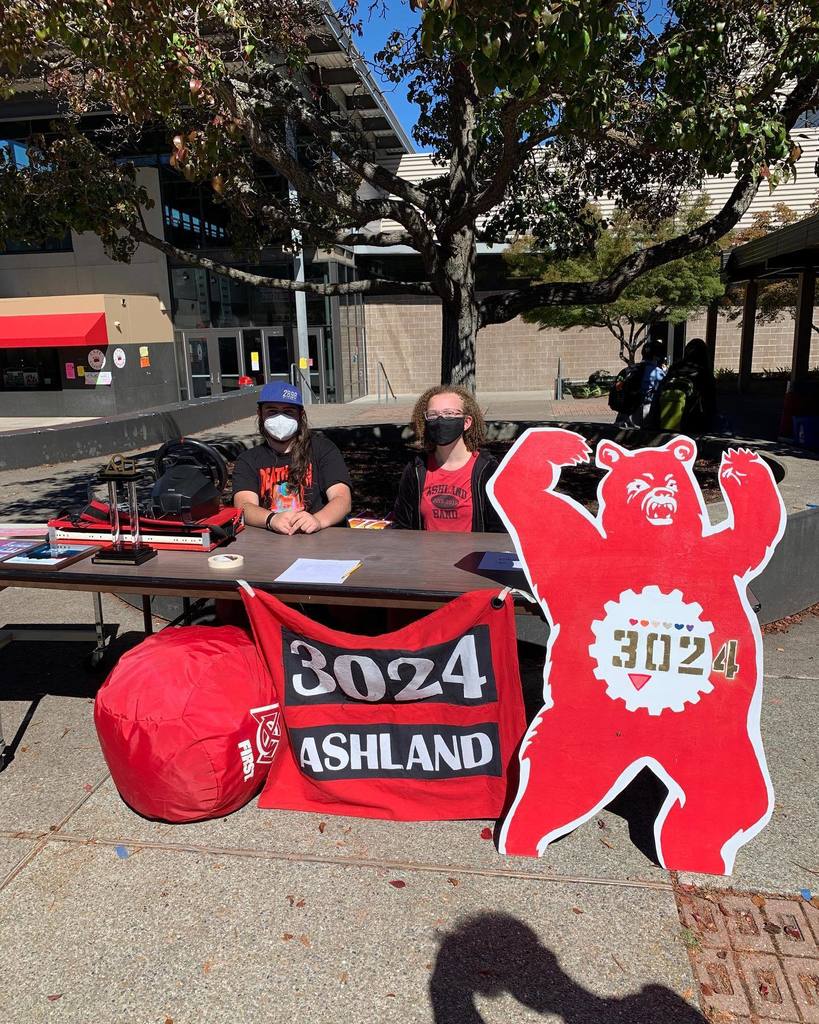 The Student Tutor Center is up and running! All students are welcome for free tutoring. Academic support services include: homework help, study and organizational skills advice, paper editing, project assistance, world languages practice and test preparation.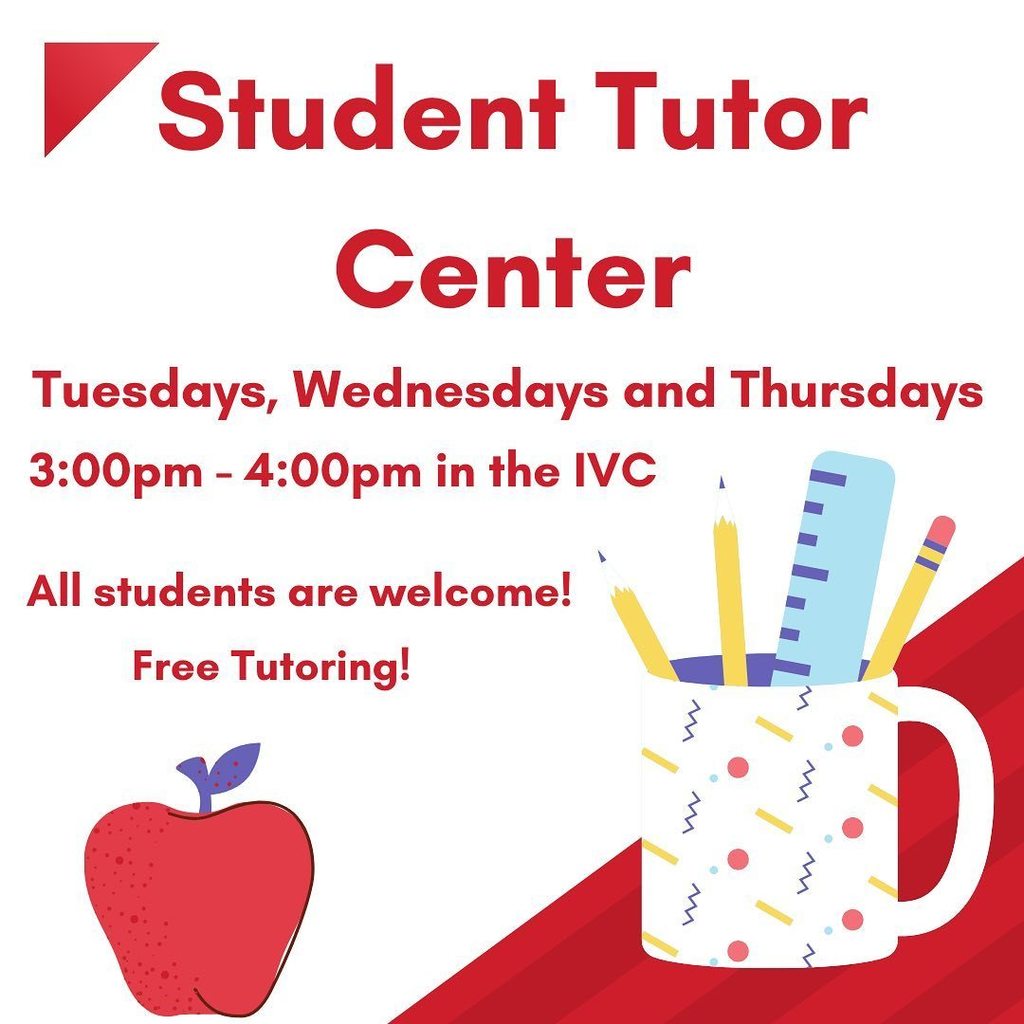 September is Pediatric Cancer Awareness month, something that often gets overlooked by our community, despite the fact that it has affected many families here in Ashland. This year, the high school is making an effort to bring awareness to the issue by having a series of gold-themed activities. Today, Friday the 17th, we encourage the AHS community to wear yellow and gold attire to kick off our pediatric cancer awareness activities. There will be an advisory lesson, an advisory vs. advisory coin drive for the rest of the month, a PJammings day on Wednesday (9/29), a gold nugget hunt around campus, and gold-themed decorations on the quad. More info to come during your Friday advisory lesson! If you would like to donate directly to cancer research and to support the families of children fighting cancer, you can do so at:
https://secure.givelively.org/.../asd-going-for-gold-2021
or
https://www.paypal.com/pools/c/8CNU7yCd3z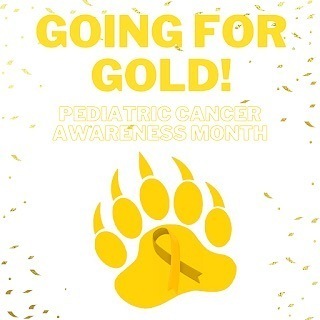 A year ago, we all experienced and witnessed how wide-spread community service can unite, mend, and restore hope. An ASD parent has initiated an inspiring and uplifting effort to make September 8 a day of community connection and care. Please join in this effort and make this day and many more full of gestures of kindness that ripple across our community and beyond.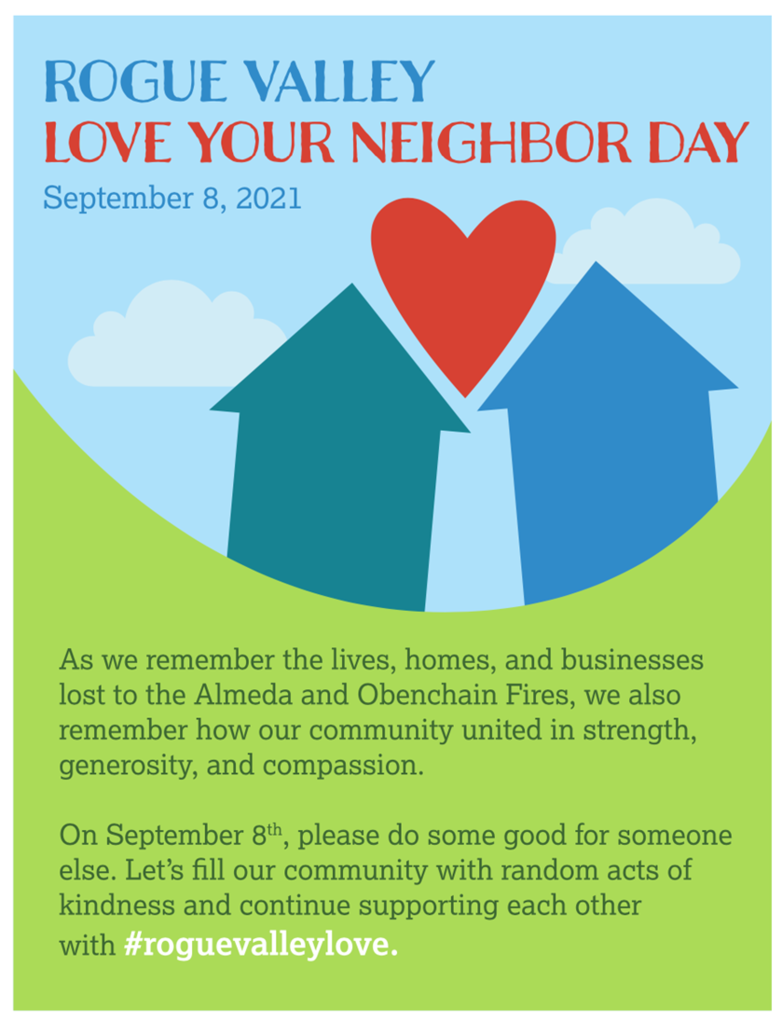 Rapid Credit Recovery Celebrations!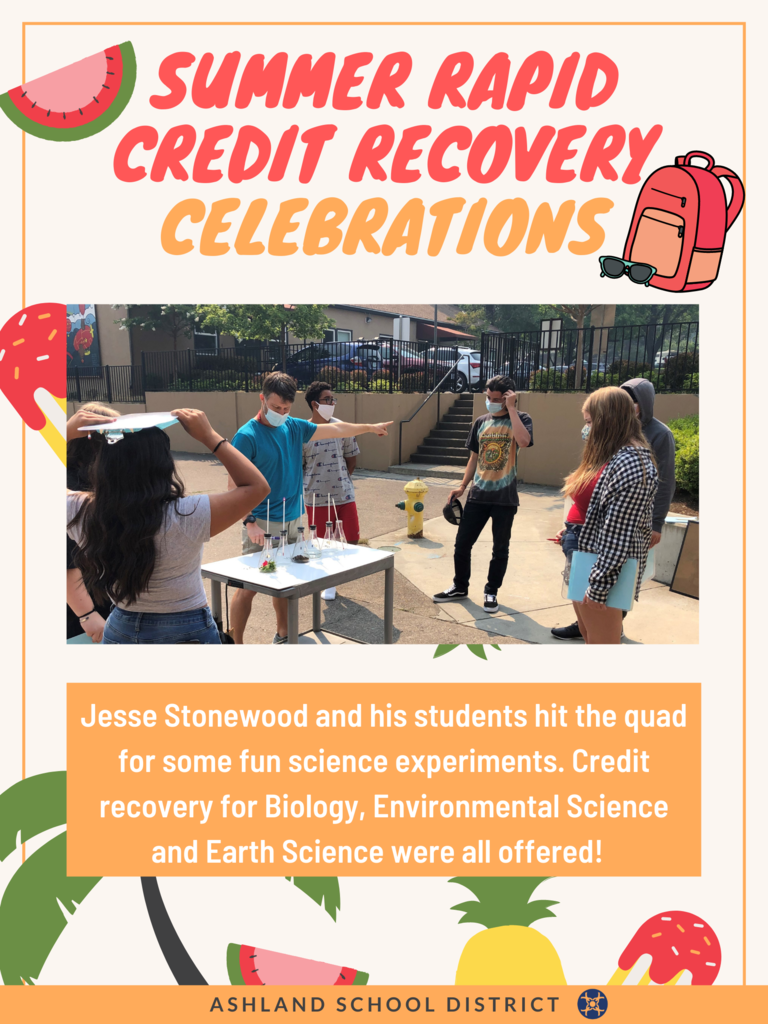 Summer Rapid Credit Recovery Celebrations!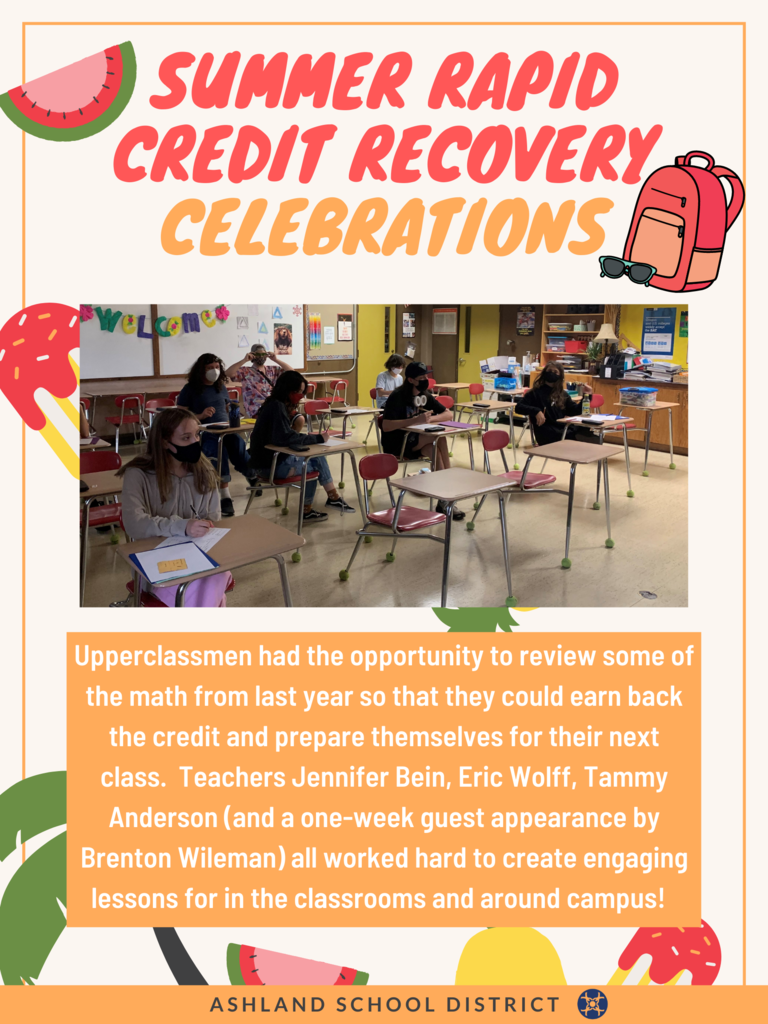 Summer Rapid Recovery Celebrations!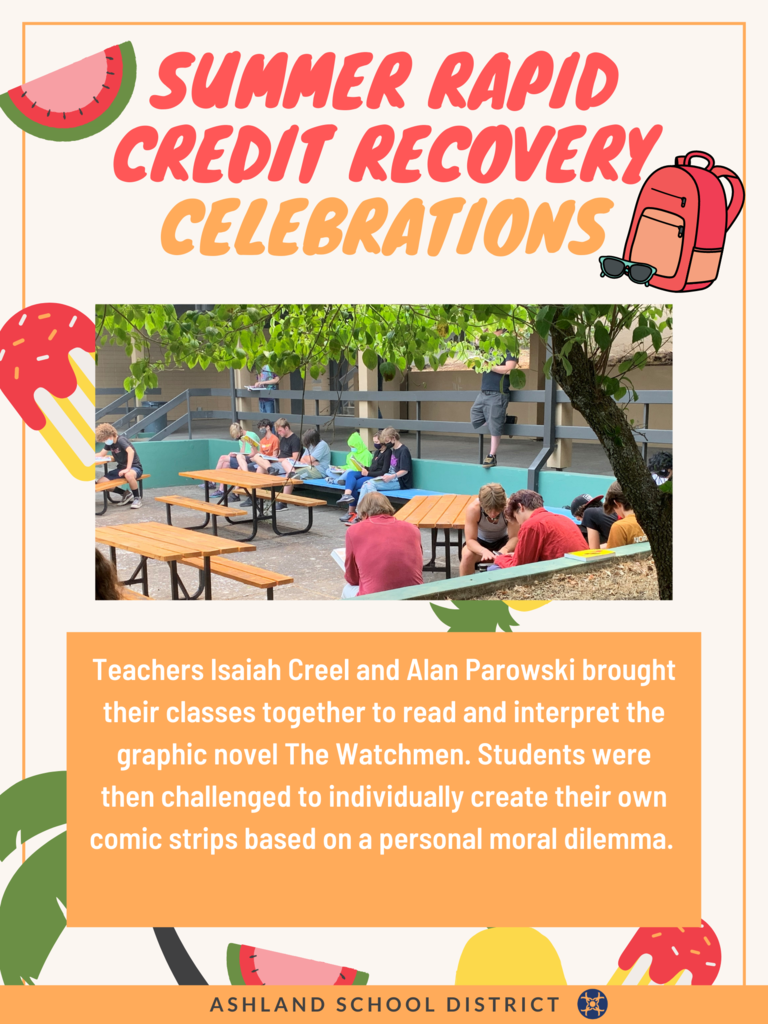 Summer Rapid Credit Recovery Celebrations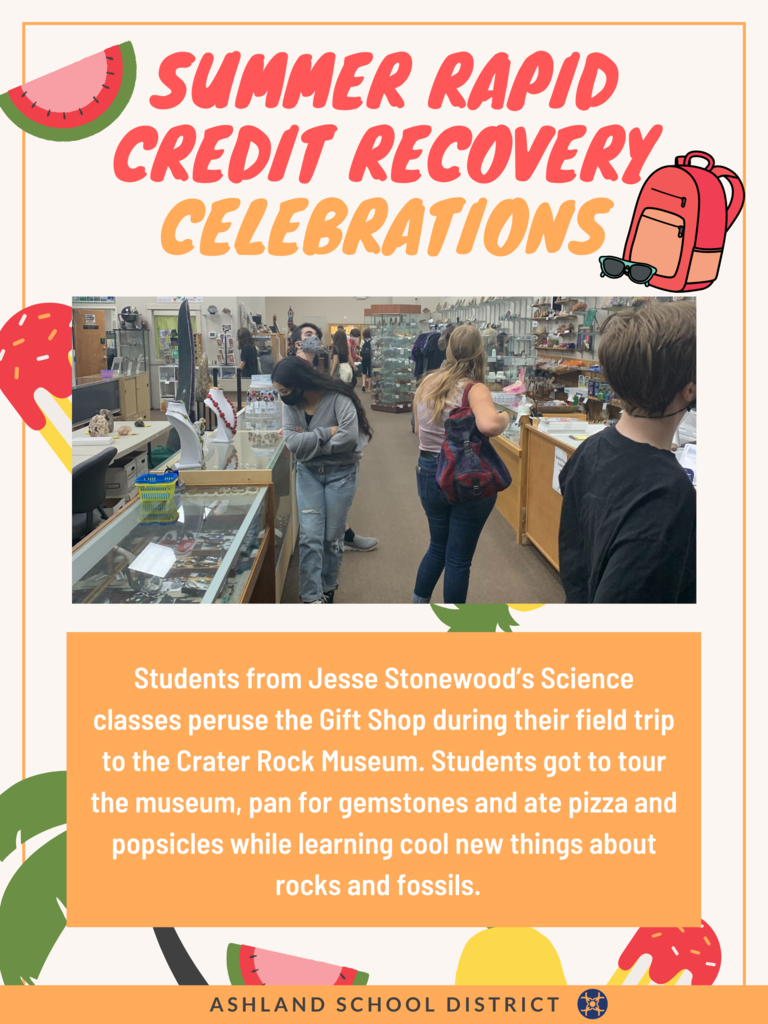 Important Fresh Start Retreat Changes - Please check email for more information. No Fresh Start retreat on Tuesday, August 17th. Email
Freshstart@ashland.k12.or.us
with any questions
Our two sessions of Rapid Credit Recovery have been a great success story. Students are enjoying the small classes, relaxed atmosphere and the ability to come together with peers to have some fun, meet some new friends and earn back those credits lost due to their individual circumstances around COVID closure last year. Several students even CHOSE to come back after the first session to attend the second session just for the fun and friendship!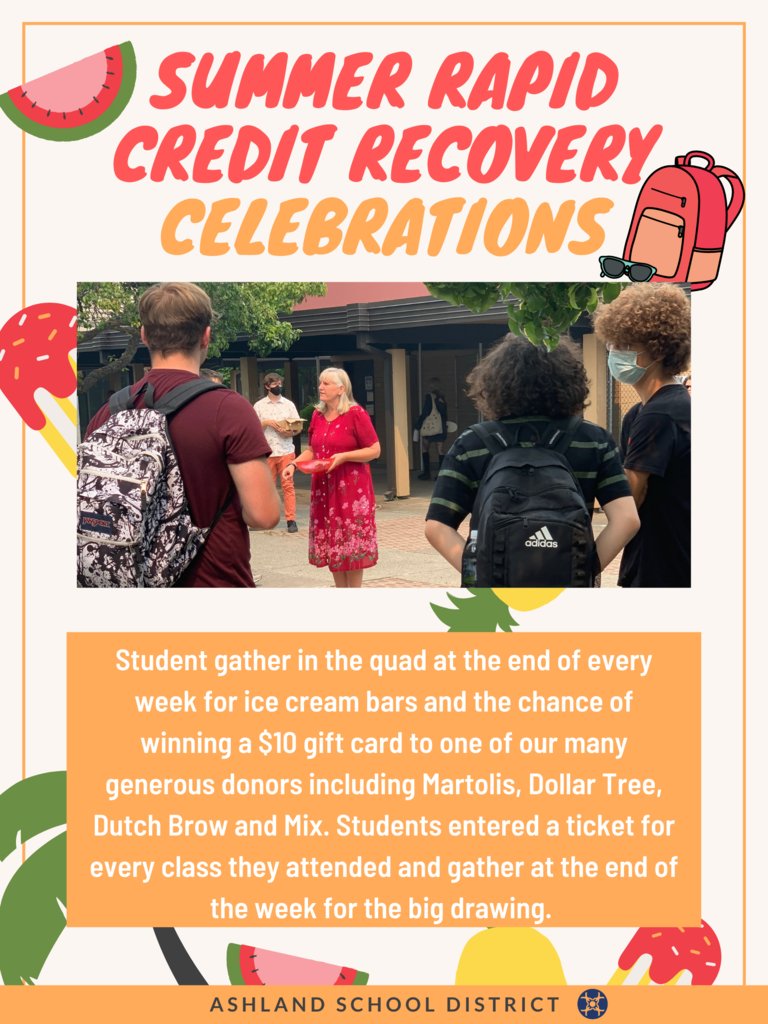 Hey Grizzlies! There are still spots available in the second session of summer school to retrieve credits in the following classes: English 9/Global Studies English 10/American Studies Any English selective for 11/12 Environmental/Earth Science/Biology Integrated Math 1 and 2, Algebra 2 and Geometry Spanish 1 or 2 Health/PE - all classes Art - any elective If you want a fun and relaxed way to earn up to 3 credits back in 3 short weeks, join us August 2-20th ! Register by calling the high school (541-482-8771) and ask for Bryanna Trevino or Glenna Stiles