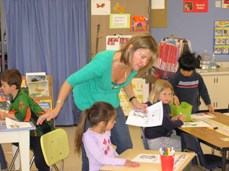 Easy Fund Raising Ways to Help Walker Students
The following is a short list of some easy ways to help raise much needed funds for the Walker Parent Teachers Organization (PTO). The PTO helps fund activities such as the Reading Is Fundamental (RIF), Art Center, Author Visit, Carnival, Community Dinner, Hawaiian Night, Artist's In Residence, Internet hook-ups, and Staff Appreciation Lunch.
Scrip
Scrip is substitute money which usually comes in the form of gift certificates. If used in place of money when making purchases from participating merchants, Walker School will get from 5% to 15% of that value. In the past three years, Walker has generated about $10,000 from Scrip, but we could do better!
Different merchants handle Scrip differently. For fast food restaurants such as McDonald's or Subway, to purchase Scrip, please visit Melissa Katsikis in the Main Hall every Friday. For Advanced Photo, simply tell them you want to buy Scrip for Walker School before they total your purchases. Remind family members to do the same.
Each participating supermarket works a bit differently. Here's a brief explanation:
1. At Shop 'n Kart, it's best to flag down a clerk before going to the check stand, so that they can find the proper person to sell you the amount of Scrip you need.
2. At Safeway, you need to register your red Safeway card at escrip.com.
3. Albertson's connects the tan Community Partnership cards (designating Walker PTO as a beneficiary) with their Preferred Shopper card.
THANKS! USE SCRIP!!
Sign up on the Internet, by registering your credit cards. Select Walker School PTO. Local businesses participating include PC Market of Choice, Safeway's, Chevron, Payless Shoe Source, and Big 5 Sporting Goods. Other businesses include Eddie Bauer, American Airlines, and Budget Car Rental.
Click Here for more information. Or follow the steps below to get started:
Click Here www.escrip.com

Click "Sign Up - It's free"

For "Group ID" enter number 7192027 and click "Search"

Choose Walker School PTO

Register your grocery club card, debit card and credit cards. The more cards you register, the more money Walker gets!

Enroll family/friends over the phone and record name on attached log (see 7), OR just record their Safeway Club Card number on the attached form (see 7) and we will enroll you!

Click here for Enrollment Log - PDF Fillable Form - Students place name at the top of form. List the names/contact information of the people they have enrolled or who have indicated they have enrolled themselves. Turn form in to teacher by December 9th. Students can also just record the Safeway Club Card number on the form.
Basically, there are three ways to fund-raise with BoxTops.
1. CLIP: Clip Box Tops coupons from hundreds of participating General Mills products with the original Box Tops program. Each boxtop is worth 10 cents. You turn your saved boxtops into the school. General Mills will send Walker a check worth 10 cents for each Box Tops coupon redeems.
2. SHOP: Shop online through the Box Tops for Education Marketplace at boxtops4education.com. You first sign up online and the shop at the Box Tops Marketplace. There are over 100 stores online, including Eddie Bauer.com, Amazon.com, and OfficeMax.com. Up to 10% of each qualifying purchase from an affiliated store is donated to Walker.
3. CHARGE: Charge with the Box Tops for Education Visa card at more than 20 million locations worldwide. The Visa card has no annual fee and a low APR. Call 1.800.227.9605 to apply. Your card can be used for anything including groceries, gas, school supplies, dining and more at over 20 million locations worldwide. A full 1% of each purchase made with the card is donated to your designated school (Walker)...
Target Visa
Target will donate an amount equal to 1% of Target Visa and Target Guest Card purchases made at Target and target.com, and 1/2% of Target Visa purchases made elsewhere.