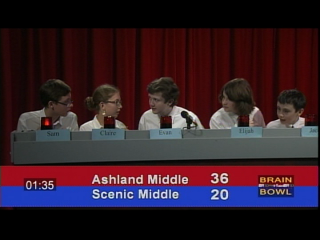 Brain Bowl is quiz-style academic competition on a broad range of topics:
Mathematics

Social studies

Geography

Language Arts

Literature

Fine arts

and general knowledge
This broad range of topics encourages teamwork, as few individual students are strong in all topics. Each week of questions increases in difficulty, so that by the end of the season, students are being challenged by high school level knowledge. Quickness and a willingness to take a risk is also an important factor.

Brain Bowl is open to 6th, 7th, and 8th graders. Weekly practices begin late in November and weekly competitions with other area schools take place from mid-January to March, followed by semi-finals and April finals. Meets take place during the school day, so students should be prepared to stay current in their classes and make up missed work each week.

James Johnson is the AMS coach for Brain Bowl.
For more information, please email james.johnson@ashland.k12.or.us.

FYI - Ashland Middle School was the middle school champion for 2013.