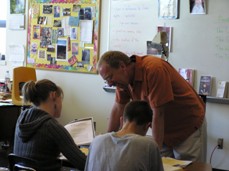 AMS is configured using a team approach to teaching and learning. Our configurations are as follows:
Sixth Grade
The sixth grade team at AMS includes six teachers working together in three person teams. Each classroom of students is assigned to one primary teacher who will be the homeroom teacher and will teach the core instruction in either language arts, science/social studies or math. The teaching partners will provide instruction in the other core subjects not taught by the homeroom teacher.
Seventh and Eighth Grade Blended Teams
Seventh and eighth graders are grouped together for language arts, social studies, science, math and Spanish classes.
Students spend the majority of their day together on these teams with their team of teachers. Currently there are three 7th and 8th grade teams.
Cultural Arts
At AMS students have the opportunity take a variety of Cultural Art classes. The following classes are currently offered at AMS:
Band

Orchestra

Art

WAMS (Video Production)

Leadership

Theatre