Congratulations to the Small but Even Mightier AMS Brain Bowl team! Although they and St. Mary's finished the season in a tie with four wins and one loss each, Ashland had previously beaten St. Mary's in their head-to-head match, so Ashland was declared to be the 2023 Division A Champions. Congratulations to Benett Willeby, Maren Villanueva, Lola Sorsoli, and Sonomi Snyder!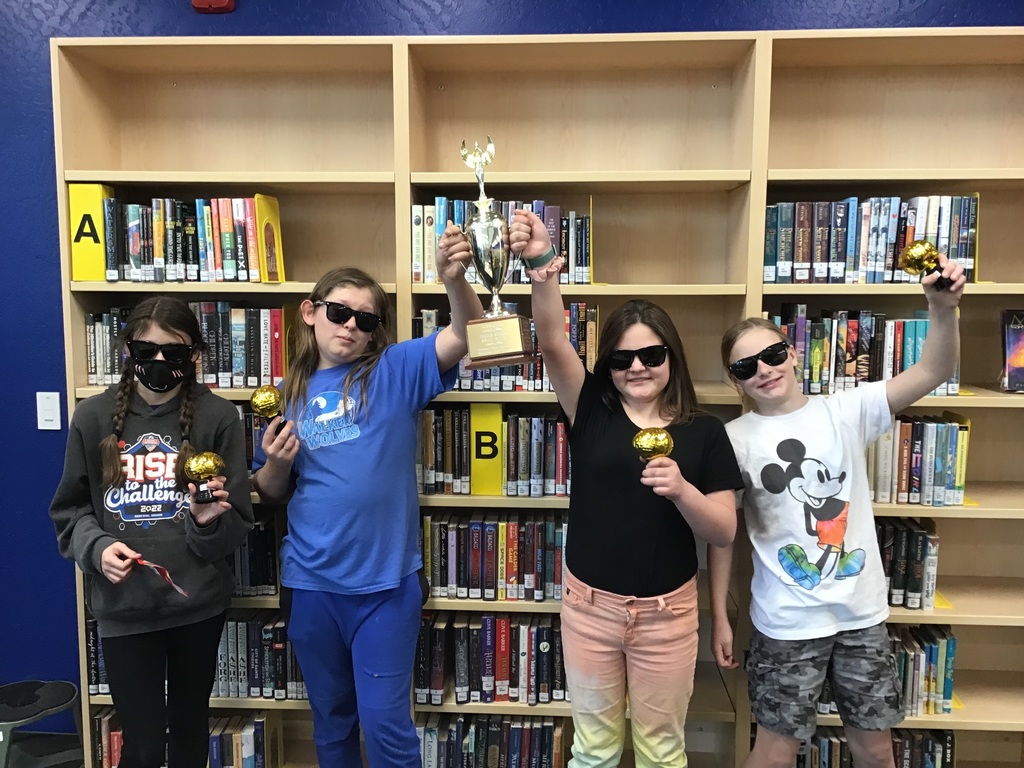 Safe Routes To School Plan – We Want Your Input! Does your student walk, bike, or roll to school? With planning assistance from the Oregon Department of Transportation, the City of Ashland and Ashland School District are working on a Safe Routes to School Plan to improve conditions for students and families who walk and bike to school. We could use your help identifying challenges and opportunities for active transportation. How can I participate? 1) Join us for walk audits! April 10th: - 7:50 at Ashland Middle School & TRAILS Outdoor School - @ TRAILS Outdoor School (Entrance) We will be observing students' arrival and dismissal and documenting walking and biking conditions in the area of the school. 2) Attend a public meeting! Meet with us on April 11th, 6:00 to 8:00 p.m. at Ashland Middle School library at 100 Walker Ave. to share your ideas and experiences. 3) Share feedback using our interactive online map! [Link to the online map:
http://odotsrtsprojectid.com/
] People who provide feedback on the map will be entered to win fun prizes. Questions? Contact Jacqueline Schad,
Jacqueline.Schad@ashland.k12.or.us
For detailed information, visit our Safe Routes to School Page
https://www.ashland.k12.or.us/o/asd/page/safe-routes-to-schools-plan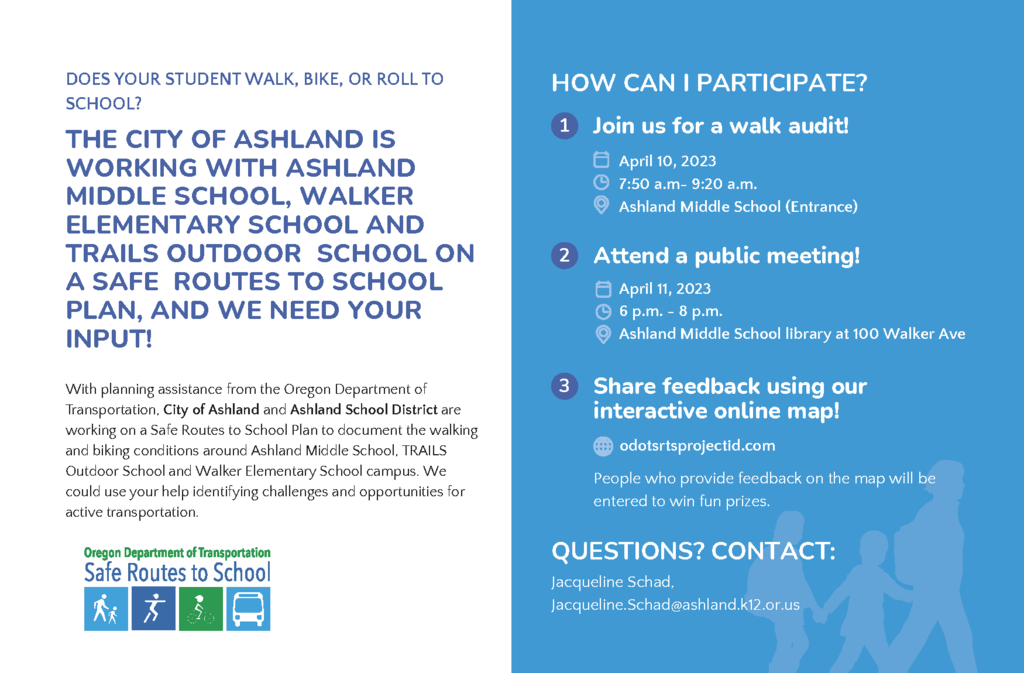 Please join Diane Berry to learn more about how we can understand, support, and confidently guide our middle school students with ADHD. Kids with attention deficit disorder (ADHD or ADD) struggle with self-regulation, organization, and emotional management. When you add the challenges of puberty, rapid brain development, and tween angst —including hormones, lagging communication skills, and a heightened attention to peers — parents can experience some especially turbulent and yes, frustrating parenting adventures. At this workshop, we will cover: -Goals for your child -Definitions of ADHD -Understanding Executive Functions -Possible challenges during middle school years -Supports and Strategies -Materials and Resources -Exceptional qualities and talents This event will NOT be streamed via zoom. A power point presentation will be made available on our district website here:
https://www.ashland.k12.or.us/page/parent-seminars
If you have questions about this event, please reach out to
rebecca.gyarmathy@ashland.k12.or.us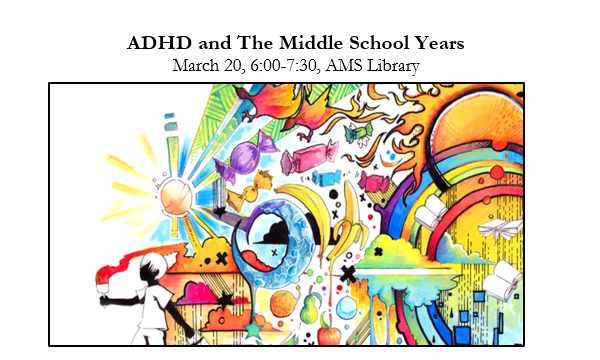 Due to the recent snow days in February, we will be using two of our make-up days. Please take note of the updated school calendar that shows a full day of classes on April 17th and June 14th, and a half day on June 15th (the last day of school) The link below will take you to the web page where the new calendar can be viewed and downloaded.
https://www.ashland.k12.or.us/page/school-day-calendars

Today, we want to give a shoutout to the amazing classified staff at Ashland Middle School! These unsung heroes work tirelessly behind the scenes to keep our school running smoothly. From maintaining the facilities to managing student records, they play a crucial role in making our school a great place to learn and grow. We also want to recognize the recent act of kindness from our teachers and administrators who stepped up and took over their duties during lunch so they could take a well-deserved break. This gesture goes to show the strong sense of community and support we have here at Ashland Middle School. To all the classified staff, thank you for your hard work and dedication. You are appreciated and valued members of our school family! #AshlandMiddleSchool #ClassifiedHeroes #AppreciationPost 💜💛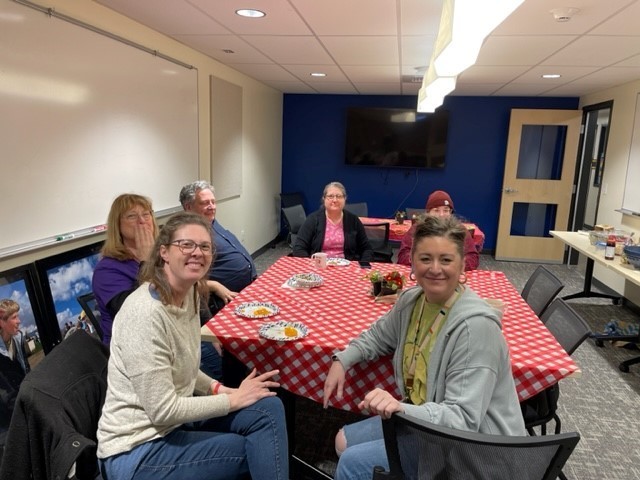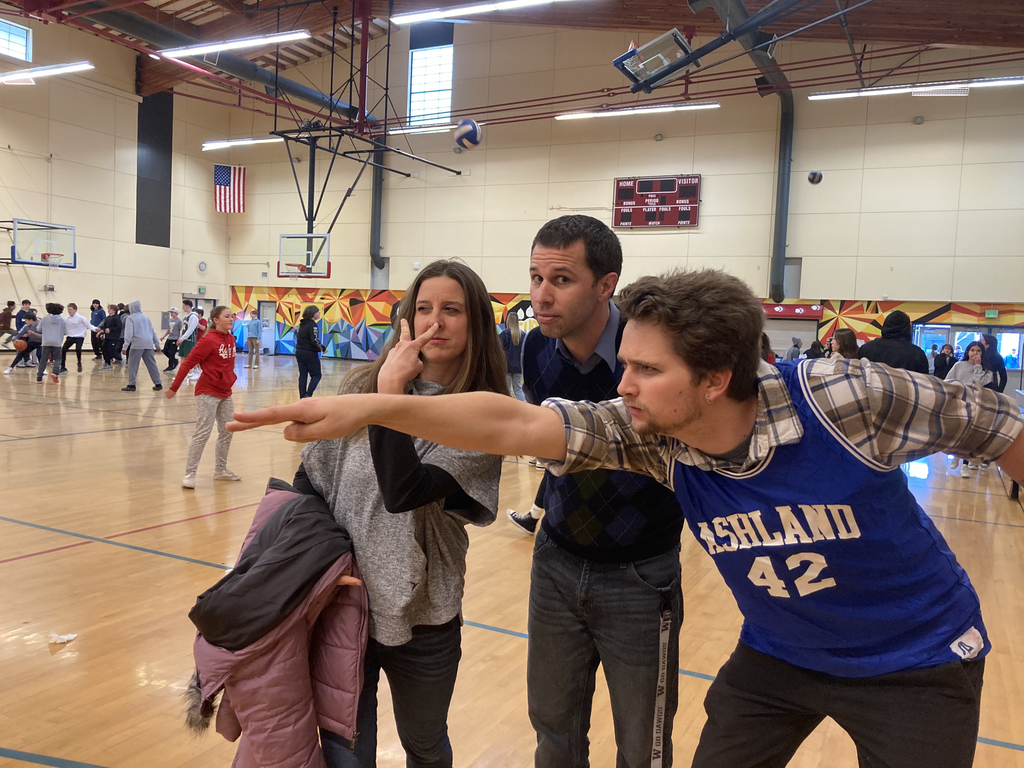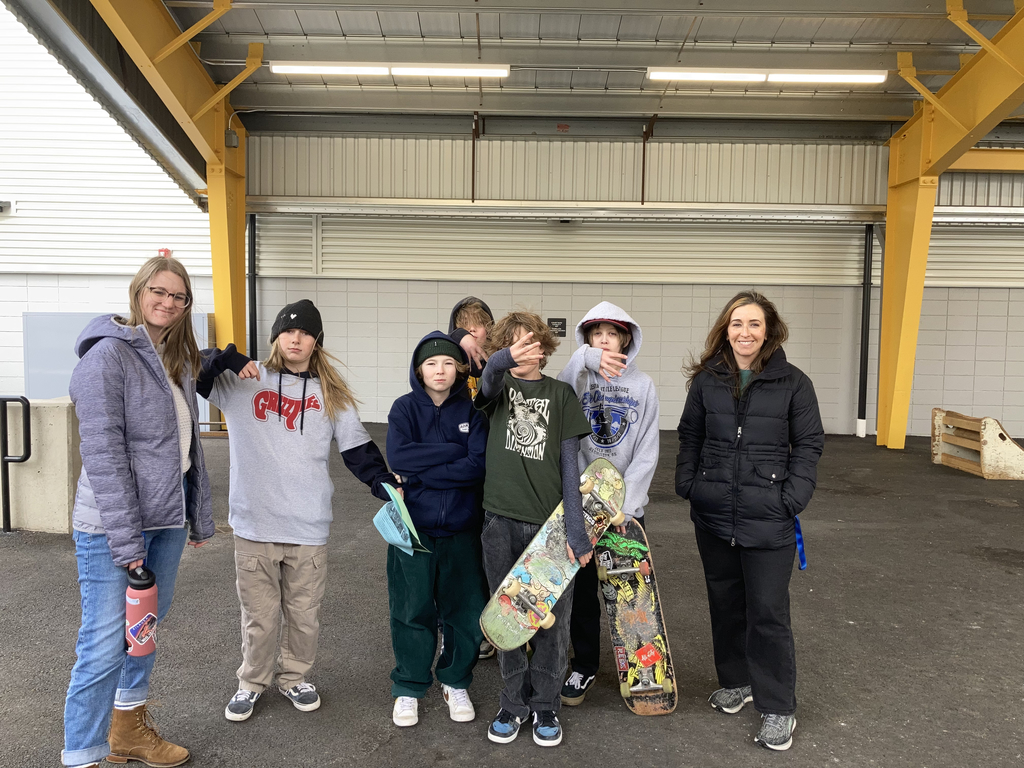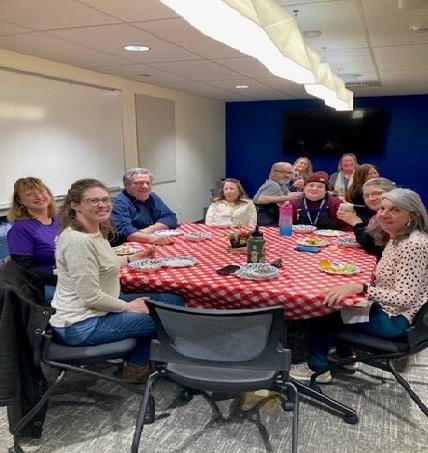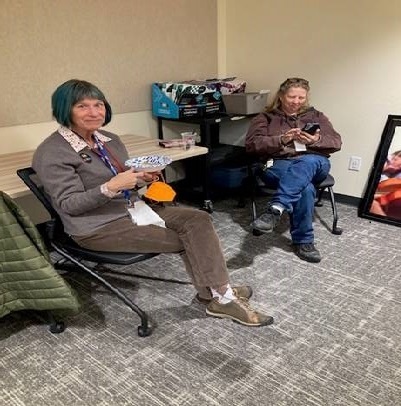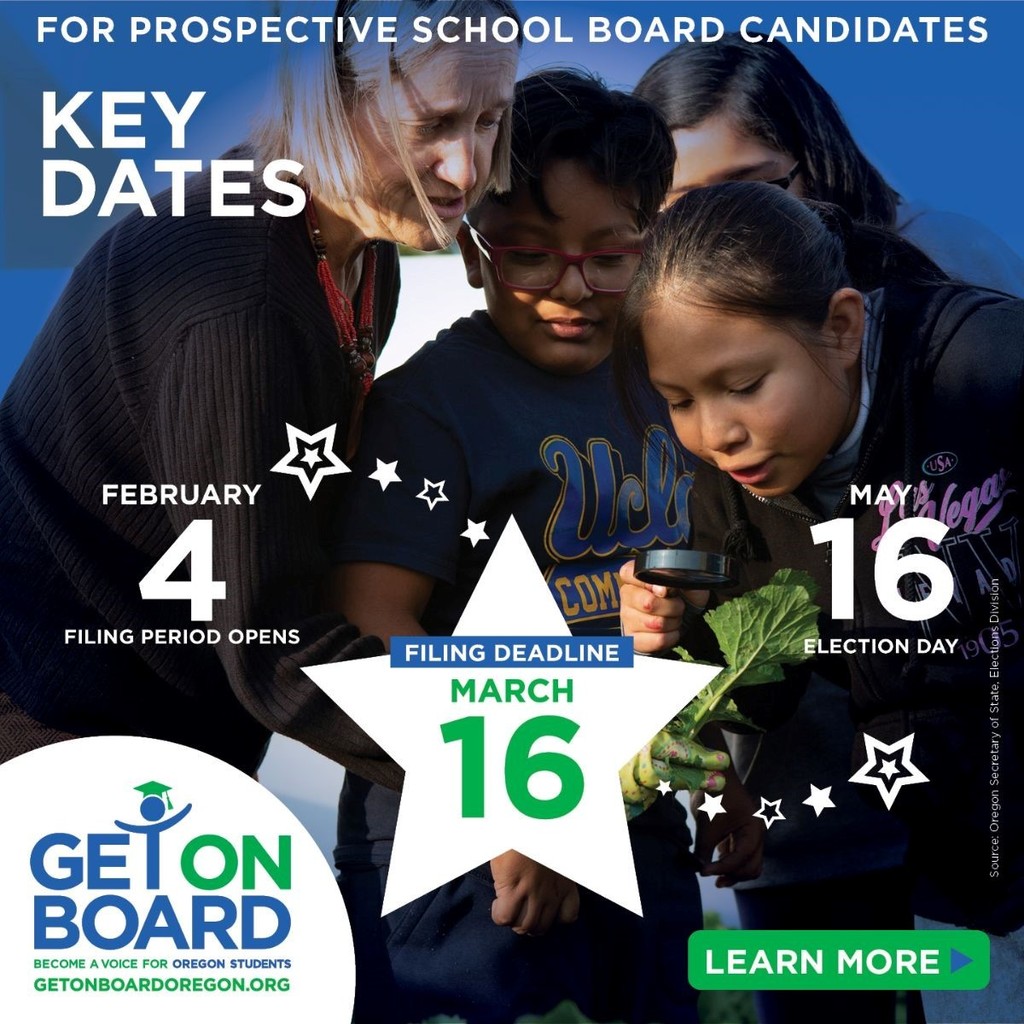 Food Drive!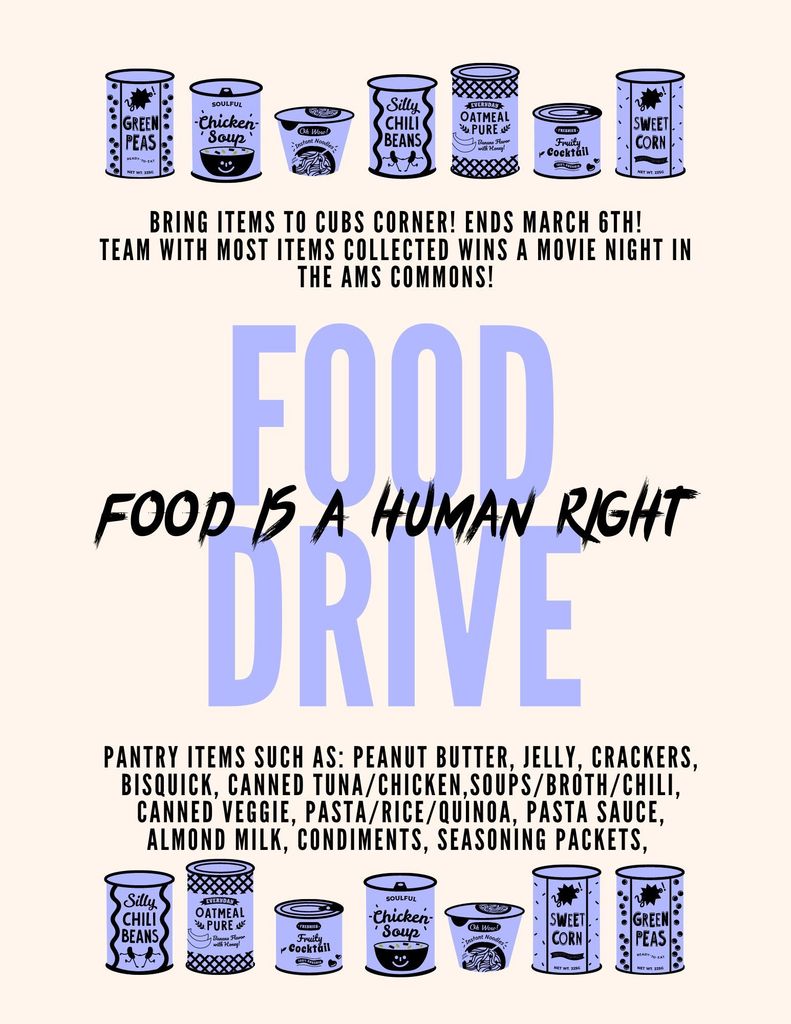 Happy School Counselor Appreciation Week!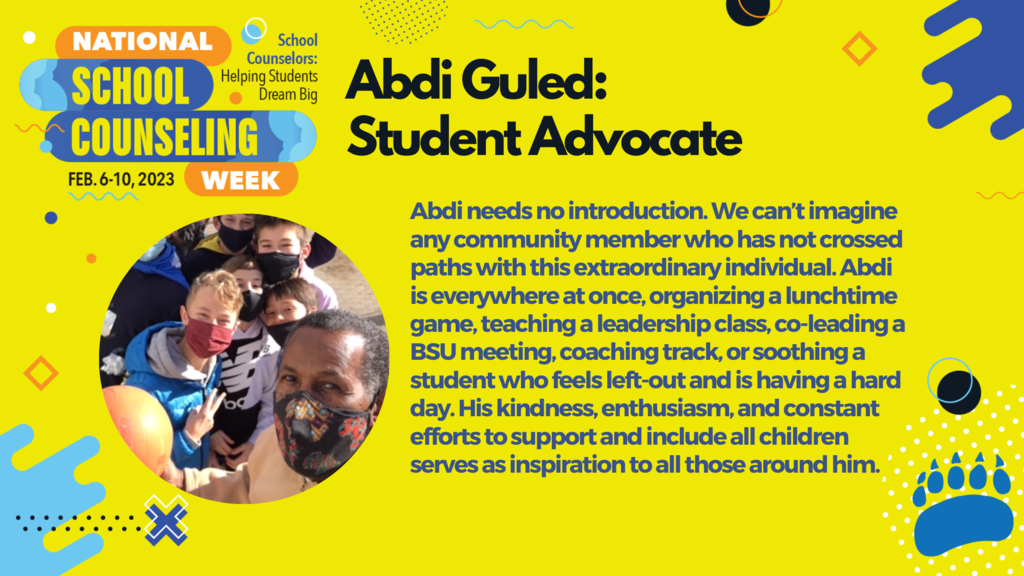 6th grade Siskiyou students from Wendy Werthaiser's Language Arts classes created found poems using words and writings from Black Americans including Shirley Chisholm, Malcolm X, Amanda Gorman, Martin Luther King, Jr., and Maya Angelou.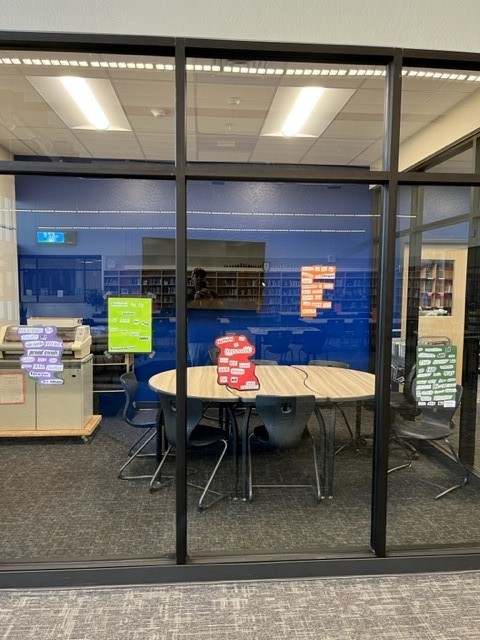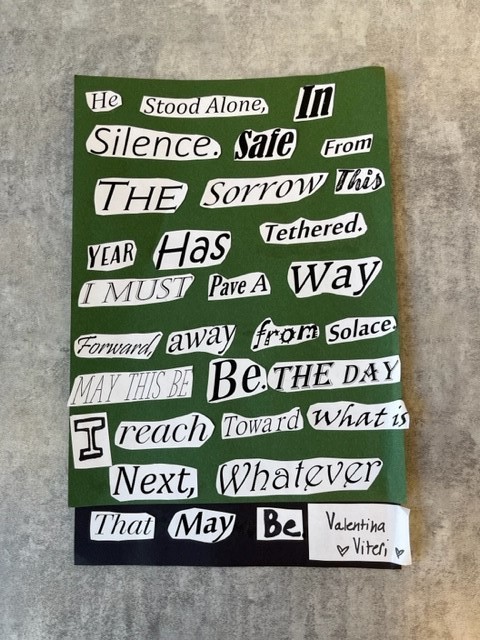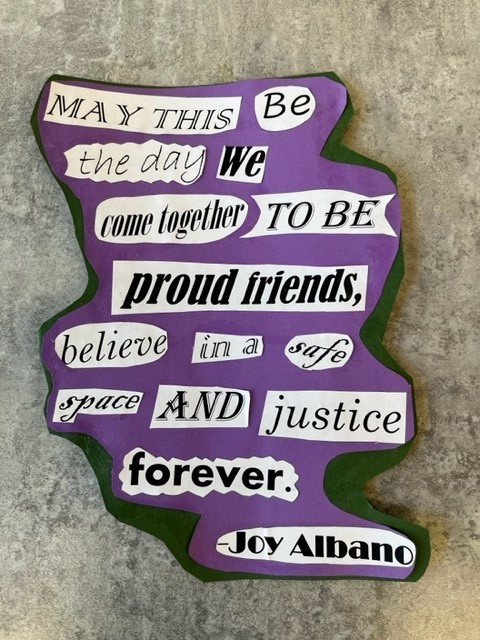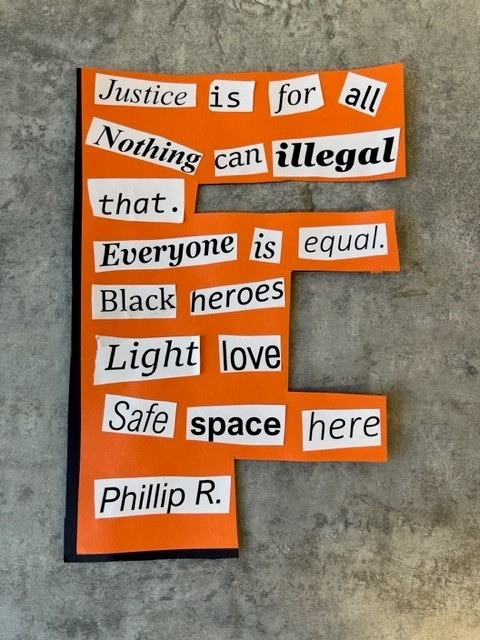 Happy School Counselor Appreciation Week!

Wednesday was National Signing Day for high school students signing their letters of acceptance to continue participating in sports at the next level. Our football coaches wanted to do something similar in order to work on increasing our numbers for next year. Twenty-two of the 23 eighth graders that played football at AMS were in attendance! Now the task will be to keep the fire burning until they can officially join the program in the summer.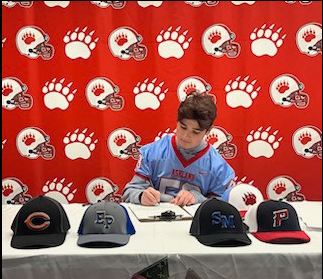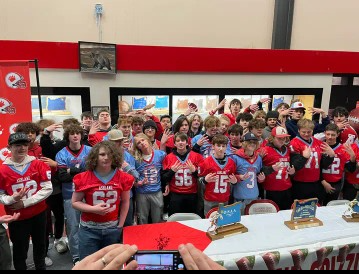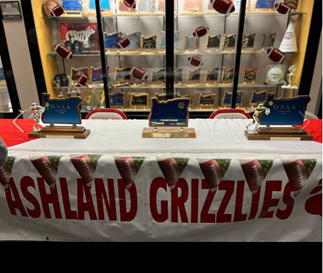 Shauna Murphy, leadership and 6th grade homeroom teacher at Ashland Middle School, was recognized this week as the Rogue Credit Union KOOL Teacher Of The Week! Scuba Steve, from KOOL 103.5 FM, and a representative of the Rogue Credit Union brought Shauna a Harry & David basket filled with tons of goodies from Kelly's Automotive Service, Gypsy Soul, Applebees, Sonic, Wash-N-Go Depot, Judy's Central Point Florists, Texas Roadhouse, Red Robin, and of course, Rogue Credit Union!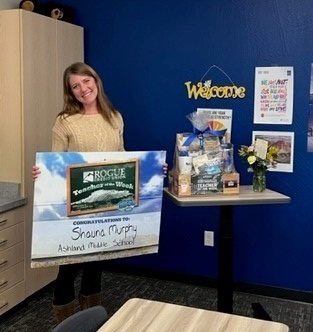 Join us tonight in the AMS library from 6pm-7:30! We have hosted Karen in the past and parents have responded "this should be mandatory for all parents!". Raising kids in today's technology world can be challenging to say the least! Come hear how you can build your own families teach values.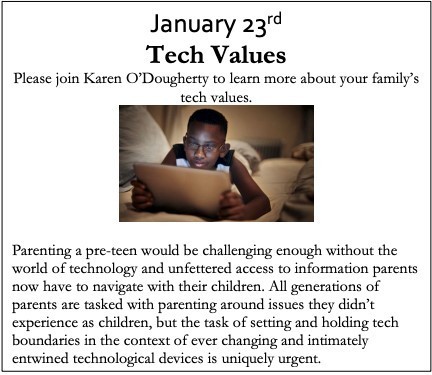 At Ashland Middle School, we believe when students improve their attendance rates, they improve their academic prospects and chances for graduating.

The Ribbon Cutting has been placed on hold until warmer weather and healthier conditions. We appreciate your support of AMS and look forward to gathering together in the New Year.

Don't miss out on the Ashland Middle School Theater production of: The Addams Family Musical,
young@part
. When: December 8th and 9th at 7:00 PM December 10th matinee at 3:00 pm and 7:00pm closing performance Place: Ashland Middle School Cost: $10 for adults, $5.00 for students and seniors. Pay at the door. Come join us for some spooky entertainment with the Addams Family. We can't wait to see you there!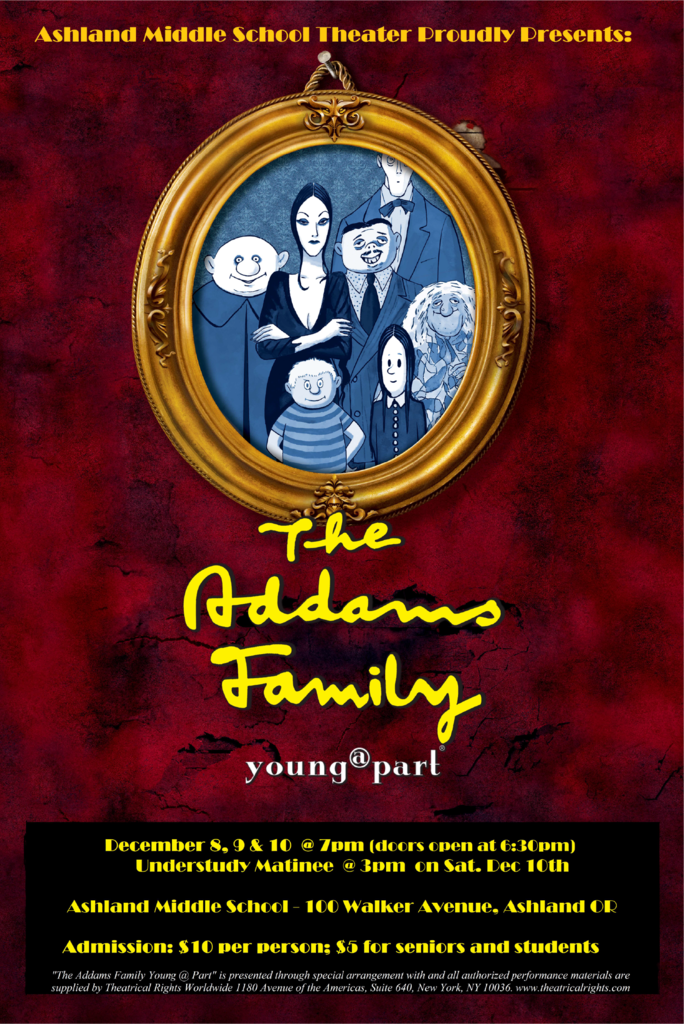 The AMS Student Leadership Council has met multiple times this year bringing ideas to life that help make our campus a safe welcoming environment. This group was nominated by teachers for their leadership qualities. One of their ideas was to design a sweatshirt that helps identify them as an ally on campus. If a student is feeling upset and are in need of a friend or have a question or need help solving a problem, they can reach seek out a student in a GOLD sweatshirt! Our student leaders pictured from left to right: Bottom row: Max Lupton, Luke Campagna, Logan Wileman, Ike Brown, Mason Lupton, Jack Maybin, Quinton Houston Top Row: Miriam Preskenis, Aziza Preskenis, Saya Barrey, Lucy Bell, Zarah Hadji Not Pictured: Logan Lavorse, Hadley Peterson, Peter Billett We took our design to AHS Grizzwear and got to print the sweatshirts ourselves! Thanks to Kris Prusko and AHS for letting us visit and including us in the process.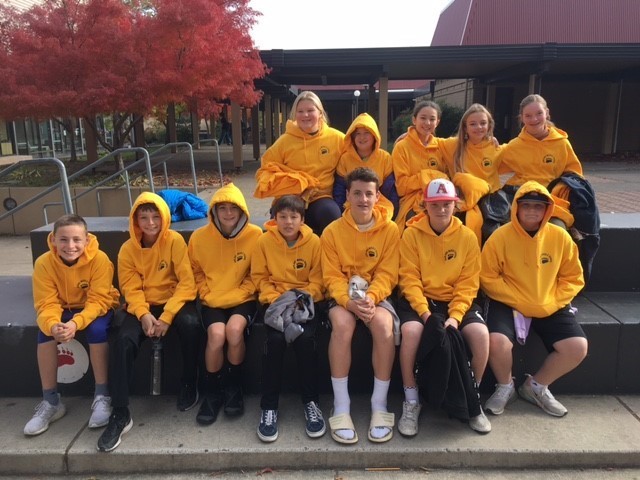 November 14th Mental Health Matters Please join Julie Bleicker and Lance Matthewson to learn more about the uptick in anxiety in the middle school population and how you can help. The prevalence of anxiety has become the primary mental health issue for teens at AMS. Parents are asking for ways to best support the social/emotional needs of their kids. We will talk about healthy habits, proactive strategies and ways to effectively communicate with your kids as well as create a forum for dialogue and questions parents have about preteen mental health.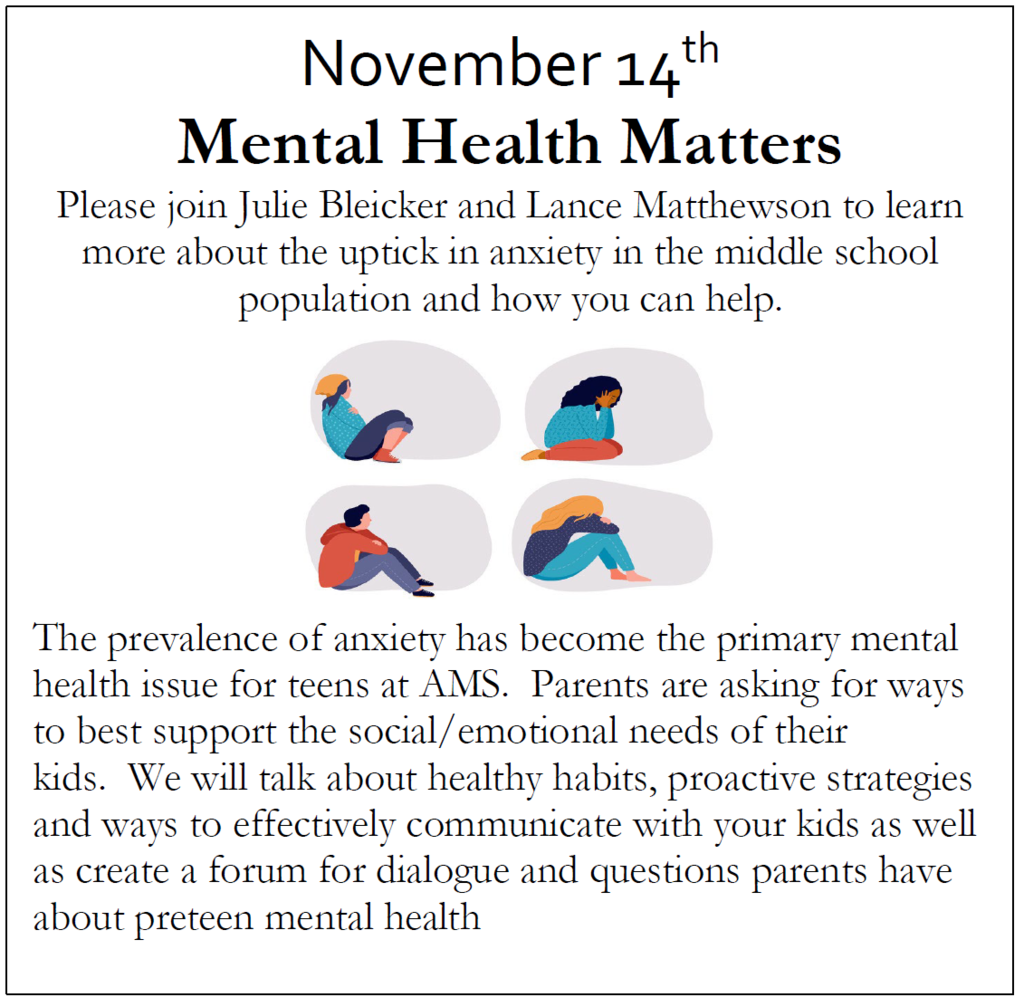 CONGRATULATIONS to AMS band members Abbi, Thane, Jackson, Logan, Soren and Pepper on making it into the Youth Symphony of Southern Oregon! The first YSSO concert of the year is happening at SOU this Saturday night at 7:30 p.m.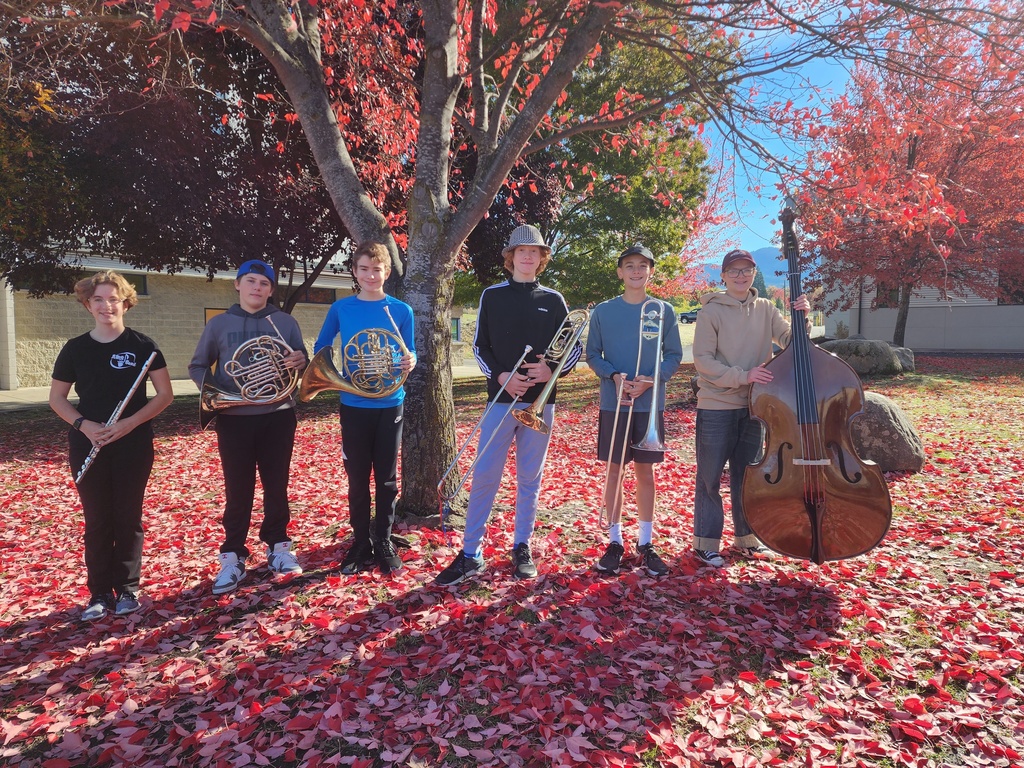 At Ashland Middle School, we believe building strong, trusting relationships that promote a feeling of belonging is fundamental to improving student attendance & engagement.