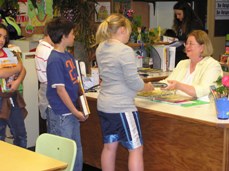 Mission Statement: The purpose of the Helman School Site Council is to facilitate, encourage and guide continuous school improvement for all students and staff. The Council promotes dialogue, understanding and growth for all in a caring and nurturing learning environment.
Meetings are held on the last Tuesday of each month from 3:00 - 4:15 PM in the Helman School Conference Room. Please call the office to verify the meeting date, in case of the need to reschedule. Meetings are open to the public.
Our meetings focus on the goals and activities related to staff development as written in our School Improvement Plan. We also monitor school grants and any items related to School Improvement. We include Title I in all of the school planning and are responsible for maintaining our school-wide program. This year all Oregon schools will be creating School Improvement plans that support the District Continuous Improvement Plan.
School Improvement Goals include, reading, writing, mathematics, Safe Schools, and "the whole child" which focuses on projects and activities that are built on the interests of children and designed to include all students.
ASHLAND SCHOOL DISTRICT
21STCENTURY SCHOOL COUNCILS