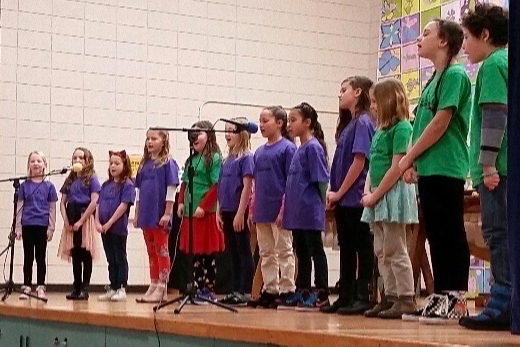 Helman Choir
Students in Grade 3, 4, 5 are welcome to participate in Choir after school on Mondays 3-4pm. Choir is a fun place to sing songs and perform at concerts. Please email amy.merwin@ashland.k12.or.us for more information.
LEGO Club
Join the fun and participate in the after school LEGO club. Parent help is encouraged and welcome. Notification for start dates will be sent out electronically, but this is generally a club that meets during the winter months. Open to grades 1-5. LEGO donations needed and appreciated.
STEM Fair
Helman's PTA sponsors this annual event. Students explore science as they compare, research and analyze scientific processes and how it relates to their environment. Students share their learning with a panel of experts - all students who participate receive a special Science Fair button and ribbon.

Talent Show
Each year, our community comes together to enjoy the various talents of our students. Whether their talent include singing, dancing, gymnastics, comedy, or playing a musical instrument, this evening event is always a treat. The Talent Show coordinator is Amy Merwin and the event is sponsored by the Helman PTA.

Oregon Battle of the Books
Students in grade 3-5 are encouraged to participate in this extra-curricular reading program that fosters a love of reading. Parent volunteers serve as team coaches for 4-5 students and facilitate comprehension activities as students do their best to collectively read 16 books and battle other teams. Teams are formed in the fall of each year and the battles occur in February. Information will be sent home in Friday Folders.
PTA Hoedown
PTA sponsored Helman Community BBQ. Music, bake sale. free food, and great families! This fabulous and fun event is held in September of each year. Hope to see you there!
Site Council
Site Council meets the fourth Thursday of each month in the conference room from 3 - 4:15. Meetings are open to the public. Minutes are posted to the website.

PTA Meetings
PTA meetings are held the second Tuesday of the month from 6:30 - 7:30 pm in the Multipurpose Room. All parents are encouraged to join for $10.50 a year membership and attend meetings. Free dinner provided at 6:00pm and childcare is provided at no charge. PTA is a robust group of parents and teachers who work diligently to provide support to children, families and the classrooms.

Soroptimist Strong Girls, Strong Women
Sponsored by Soroptimist International of Ashland, girls in grades 4 - 5 have the opportunity to participate in after school hands on Science classes beginning in October. Girls in grades 2-5 are encouraged to participate in a lunch buddy program once a month during lunch. Kindergarten and grade 1 girls will receive books for their home libraries. During winter, 4/5 grade girls take a variety of field trips to businesses and careers operated or owned by women in our valley. Spring Science classes take on stewardship projects out in the surrounding environment. This Soroptimist Signature project is designed to support girls as they move through their elementary experience and foster life long education through college.